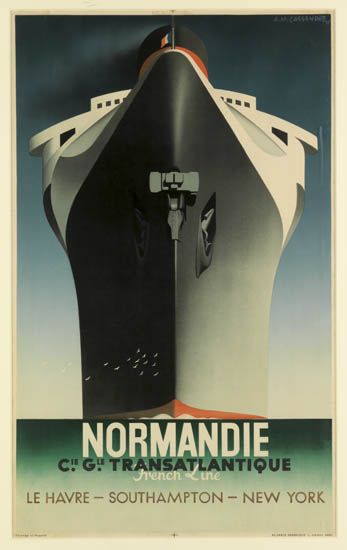 Sale 2235 Lot 154
(FRENCH LINE.) "Normandie." Normandie. Cie. Gle. Transatlantique. French Line. Le Havre - Southampton - New York. Classic color lithographed poster by Cassandre, 39 1/2x24 1/2 inches; very slight repairs in margins; linen-backed; matted and framed. Paris: Alliance Graphique L. Danel, circa 1938
Estimate $15,000-20,000

There are at least 7 variants of this poster, all with the bold image of the ship approaching. This is the only known variant without an overprint for a special event or advertising "service regulier." In 1938, the printer's mark was moved from the left side of the poster to the bottom margin, which is how this example is dated. In many respects it is the most beautiful of all the variants - the background color of the sky is a magnificent dark slate blue and shows off the smoke coming from the funnel. On the other variants the sky tends to a more greenish color.