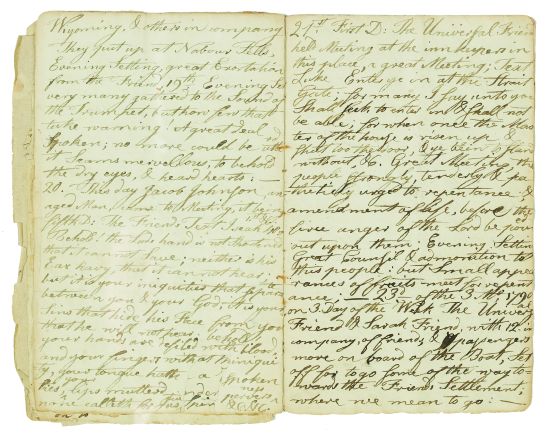 Sale 2241 Lot 290
"THE VOICE THAT SPAKE AS NEVER MAN SPAKE" (WILKINSON, JEMIMA.) Pritchard, Ruth. Manuscript diary of a journey into the wilderness with the Public Universal Friend. 16 pages, 6 1/2 x 4 inches, disbound; worn with slight loss at margins. With group of related family papers: 53 other manuscript items, and a tintype photograph of daughter Ruth Spencer Shepherd. Vp, 18 February to 15 April 1790, with other papers dated 1785-1855
Estimate $5,000-7,500

Jemima Wilkinson (1758-1819) was born into a Rhode Island Quaker family. After a severe illness at the age of 18, she announced that she had died and that a genderless spirit named the Public Universal Friend had taken over her body. She gained several hundred followers with her preaching, forming a sect which apparently drew upon Quaker, Shaker, and evangelical influences. She is generally considered the first American-born woman to found a religious group. In 1788, an advance group of her followers established the first permanent white settlement in western New York, near Penn Yan in Yates County. In April 1790, the Universal Friend ventured into the wilderness to assume leadership of her flock in this new colony. This is the diary of her journey, as written by one of the faithful who accompanied her.
Ruth Pritchard (1761-1816), author of the journal, was also a Rhode Island native. She was running a school in Connecticut when she fell under the influence of the Universal Friend, following the group to Worcester, PA near Philadelphia. On 18 February 1790, Pritchard and eight companions set off for Yates County. Winter travelling through the back woods of Pennsylvania proved difficult, and the small party was sometimes obliged to sleep in the open air. On 27 February, they reached Wyoming, PA near modern Wilkes-Barre, where they remained for three weeks, working odds jobs to raise the funds to continue.
On 18 March, the Universal Friend arrived to join the group for their forward march, accompanied by her closest associate Sarah Richards. A revival meeting was soon held: "The Universal Friend held meeting at the innkeeper's in this place, a great meeting, text Luke. . . . Great meeting, the people strongly, tenderly & patheticly urged to repentance & amendment of life" (21 March). The party left two days later by boat, heading up the Susquehanna River toward New York. In transit, the party generally camped or lodged by the riverside, except for their leaders. A typical entries reads: "The Friend & Sarah slepd in the carriage in the boat all night, and this day stayd in the boat. . . . For my part I had a comfortable lodging on a muddy floar only." 31 March was a special day: "Landed at Sugarbottom. No shelter till the dear Friend came out of the boat & errected for us a tent, very comfortable. How could anyone think it tedious to lay out when such a hand spread the tent!"
The party finally reached the Yates County colony on 13 April: "The Friend, Sarah & all of us set off in a boat for the Friends Settlement, reached this shoar before sun set, 20 miles. The Friend had a prayer by the shoar." This diary is apparently the only surviving first-hand account of the Friend's journey.
The family papers accompanying this journal also shed light on the Universal Friend's group. Two retained copies of letters from Pritchard are dated 1785 and 1786, attempting to convert her friends and family. In the 1786 letter, she describes her own conversion: "Lo! The Universal Friend was to pass thro Wallingford where I kept a school, and I with some more went on First Day (hearing the Friend was to preach at such a house) about 7 miles to hear. And blessed be the day I went. O! Blessed be the Lord for giveing me this great day of visitation. And I do testify unto thee, my dear friend, it was the voice that spake as never man spake. It is that which if obey'd will bring light, life & love unto the soul, that peace that the world can neither give nor take away."
Also included in the collection are 19 other interesting family letters, and 30 manuscript verse and religious texts from circa 1790 to 1840. One long poem is headed "Sarah Friend," and is presumably dedicated to or written by the Universal Friend's closest associate, Sarah Richards. Provenance: by descent from Ruth Pritchard Spencer to her great-great-grandson Paul S. Barnes (1893-1973) of Penn Yan, who owned the collection in 1964 when consulted for Wisbey's "Pioneer Prophetess." Taken together, this archive is of great importance to early American women's history and religious history. More details are available upon request.