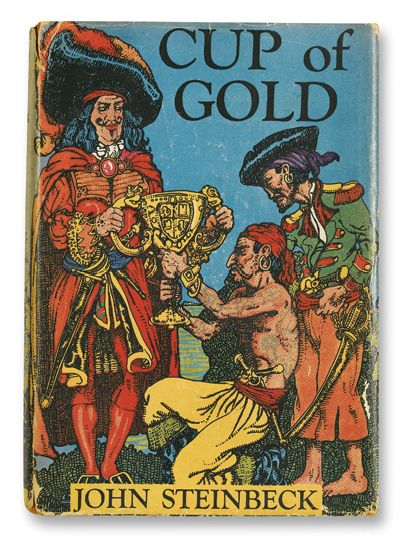 Sale 2295 Lot 234

STEINBECK, JOHN. Cup of Gold.

8vo, original yellow cloth lettered in black; pictorial dust jacket, spine panel evenly faded with minor chipping to ends with slight loss of a few letters, light rubbing along folds, small rubber inkstamp on front flap; bookplate with name obscured in black pen on front pastedown. New York: Robert M. McBride & Co., 1929
Estimate $8,000-12,000



scarce first edition, first issue of steinbeck's first book

with the McBride publisher imprint and "First Published, August 1929" on copyright page. Jacket flap corners evenly clipped as issued with "$2.50" printed price present. The publisher printed only 2476 copies, 939 of which were remaindered as unbound sheets and evidently sold to Covici-Friede who issued them with new preliminaries, preface, binding, and jacket in 1936. Variant copy (no priority) with the top edges unstained. Goldstone-Payne A1.a.