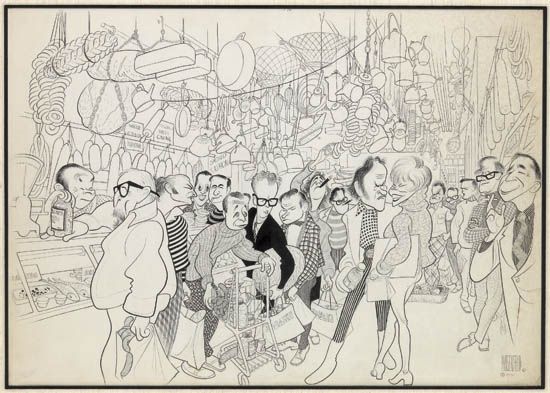 Sale 2300 Lot 193
AL HIRSCHFELD. The Counter Culture at Zabar's.
Pen and ink on illustration board, showing the "Upper West Side Intelligentsia" at the Zabar appetizing counter. 266x775 mm; 10 1/2x30 1/2 inches, full margins. Signed and dated, lower right. Published in The New York Times May 9, 1971.
Estimate $8,000-12,000

From left to right: Dwight MacDonald, Joseph Heller, Theodore Solotaroff, Norman Podhoretz, Irving Kristol, Murray Kempton, James Wechsler, Jack Gelber, Jason Epstein, Eli Wallach, Anne Jackson, Meyer Levin, Irving Howe, Robert Silvers, Wilfrid Sheed, and Alfred Kazin.