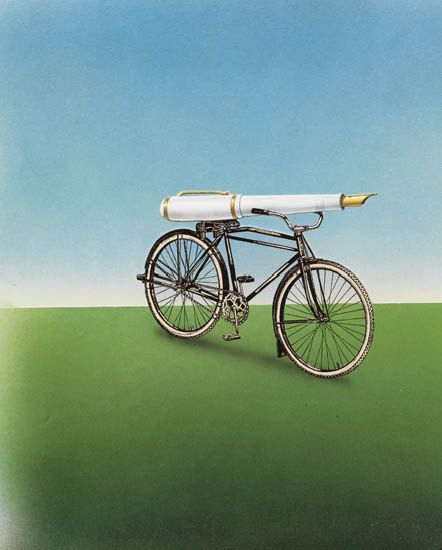 Sale 2300 Lot 219

FRED MARCELLINO.

Slow Learner.
Watercolor, colored pencil, airbrush and collage on paper with the lower portion including the trace-cut bicycle pasted over the posted fountain pen and background. 335x295 mm; 13x11 1/2 inches. Iconic dust jacket design for Thomas Pynchon's "Slow Learner," published in 1984 by Little, Brown and Company.
Estimate $6,000-9,000

Fred Marcellino (1939-2001) was an artist schooled at Cooper Union and Yale. After first working in advertising and editorial illustration, he gained fame as the premier book jacket artist of the 70s and 80s. His jackets are readily recognizable, e.g. Tom Wolfe's "Bonfire of the Vanities," Ann Tyler's "The Accidental Tourist," and Milan Kundera's "The Unbelievable Lightness of Being." In mid-career he changed course and became an acclaimed writer and illustrator of children's books.
An exhibition of both aspects of his career is currently on national tour, next to be seen at the Childrens' Museum in Houston.


this is the first time his work has ever appeared at auction.